Hurricane season 2021 is looming | Venice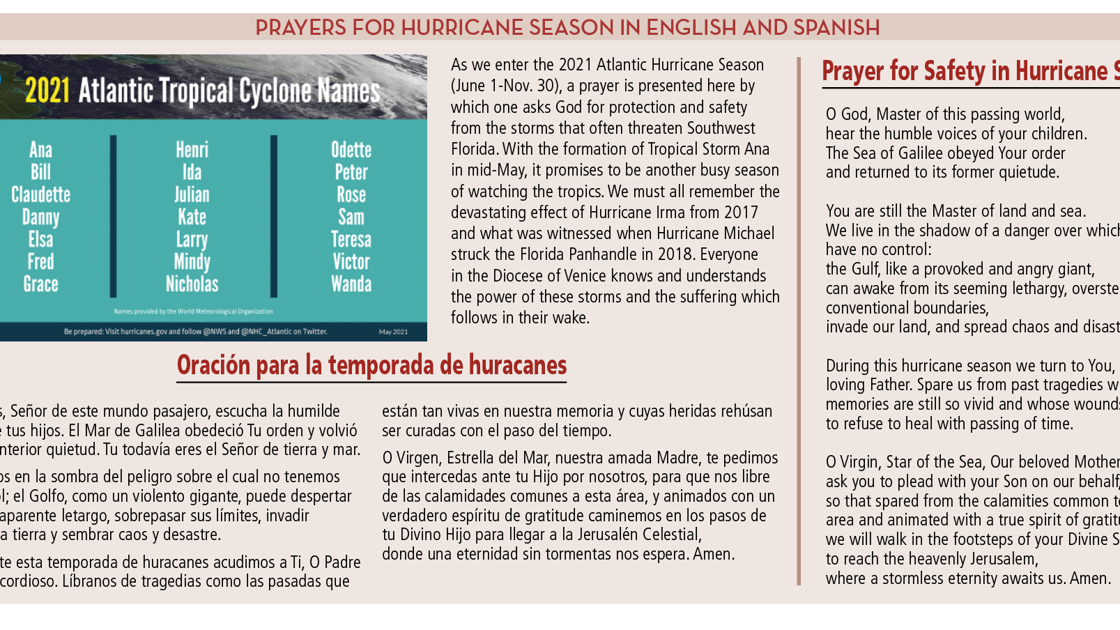 VENICE | If anything is to be expected in Florida, it's that every summer the weather will be very hot and humid, and everyone should keep an eye out for the tropics and prepare for the next hurricane season.
While the 2021 Atlantic hurricane season has yet to officially begin (June 1 to November 30), there has already been a storm named – Tropical Storm Ana. This is the seventh year in a row that there has been an early named storm. While Ana was never a threat to the Diocese of Venice, it serves as a not-so-subtle reminder that these fierce storms can form at any time and that early preparation is the key to safety and survival. .
With names like Bill, Claudette, Danny, and Elsa next on the list of potential storms, preparedness and vigilance are keys to keeping nature's power safe and secure should a storm threaten.
While early storms don't necessarily promise that this year will be worse than any other season, experts point out that it only takes one storm to hit your home and turn it into a bad season.
Factors such as warm surface waters in the Atlantic and Caribbean Sea, along with weak tropical trade winds and a strong West African monsoon, point to another busy year for hurricanes, which typically peak in August and September. .
Experts predict another above-normal hurricane season in the Atlantic. For 2021, a probable range of 13 to 20 named storms (winds 39 mph or more), of which 6 to 10 could become hurricanes (winds of 74 mph or more), including 3 to 5 major hurricanes ( Category 3, 4 or 5; with winds of 111 mph or more) is expected.
"Now is the time for communities along the coast and inland to prepare for the dangers that hurricanes can pose," said Secretary of Commerce Gina Raimondo.
There was a record 30 named storms in 2020, including 14 hurricanes and seven classified as major hurricanes. Hurricane Eta moved closest to the Diocese of Venice, brushing the coast in tropical storm force winds on November 11 (Veterans Day). The season is remembered primarily for the four named storms that hit the Louisiana coastline. Only the disastrous 2005 season, which brought 15 hurricanes, including the notorious Katrina and Rita, generated more.
Southwest Florida is no stranger to these storms with Hurricane Irma in 2017 leaving a trail of destruction and despair behind and a year later we saw Hurricane Michael devastate the Florida Panhandle.
To best prepare for a storm, it is essential to have a contingency plan. Simple things people need to know or do include: knowing what evacuation zone you live in (updated annually); have more than one escape route; have key documents ready in a waterproof container; know the location of the nearest emergency evacuation shelter; and have a disaster relief kit with essentials, including enough food, water and medicine for a minimum of three to seven days. For a list of essentials for a disaster supply kit, visit Ready.gov (English) or Listo.gov (Spanish).
To help Floridians gather supplies in advance, the 2021 Disaster Preparedness Sales Tax Holiday runs from May 28 to June 6. This tax holiday allows for the purchase of essential items, from batteries and flashlights to generators, all tax-free. For a full list of eligible items, visit https://floridarevenue.com/disasterprep.
For those who may need evacuation assistance, such as the elderly or disabled, they should contact their county's emergency management office to register for evacuation assistance. These systems are updated every year, so signing up in the past will not guarantee being on a list for 2021.
In the event of a disaster, Catholic charities of the Diocese of Venice Inc. will be at the forefront of preparedness and response. Catholic charities would send a team to the epicenter of the disaster, then coordinate to set up relief centers – called PODs, which stands for distribution points – where the need is greatest. These centers – often located in parishes or next to Catholic charity offices – will be sites where water, clothing, food and other disaster relief can be distributed.
Catholic Charities CEO Philomena Pereira said the organization updates its disaster preparedness plan every year. This is done in coordination with the offices of Catholic Charities in Florida and Catholic Charities USA, as well as with the Florida Department of Emergency Management and the Federal Emergency Management Agency. The updates include lessons learned from past disasters in the country to better respond to the future.
The diocese of Venice also knows how to respond well to these storms. Every parish, Catholic school, and other entities have hurricane preparedness plans that help prepare for a storm and recover afterward.