Key moments, better performance and statistics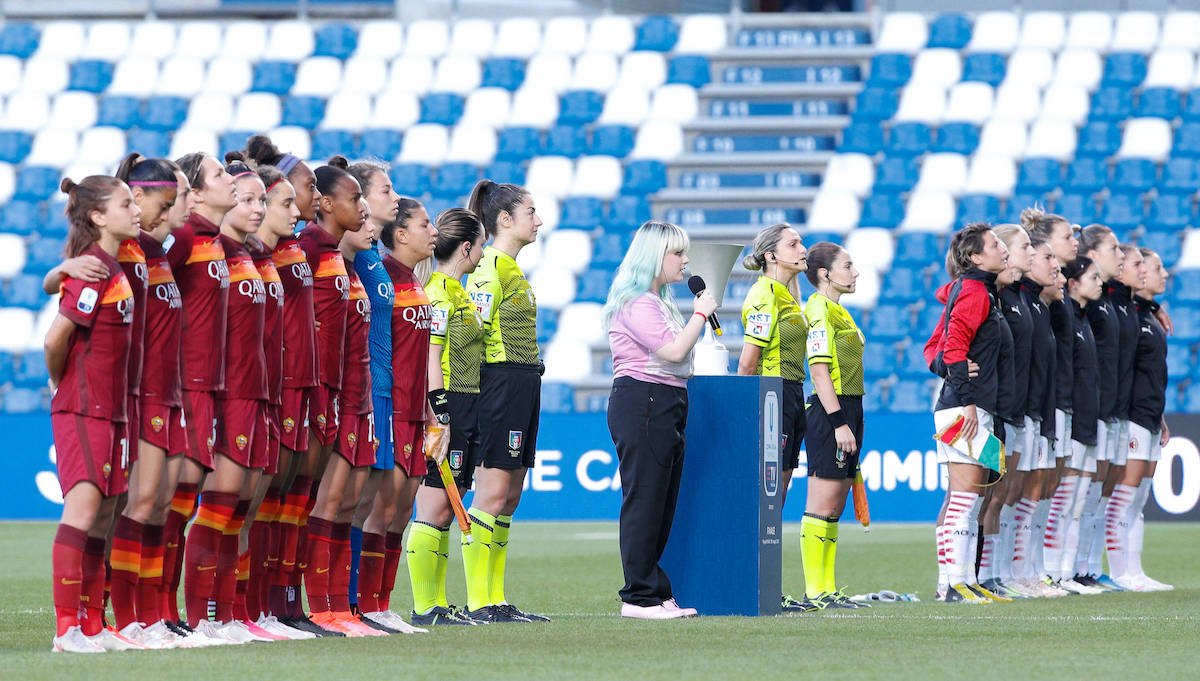 AC Milan Women unfortunately lost the Coppa Italia final to AS Roma on Sunday. The match ended in a dead end before moving on to penalties.
Here is a brief review of a match. A longer and more in-depth analysis will be released later this week …
Starting XI
Milan (3-5-2): Korenčiová; Vitale, Agard, Fusetti; Bergamaschi, Vero, Jane (45 ′ Mauri), Hasegawa, Tucceri Cimini; Dowie (77 ′ Grimshaw), Giacinti
Rome (4-2-3-1): Ceasar; Soffia (69 ′ Eržen), Swaby, Linari, Bartoli; Bernauer, Giugliano; Thomas (8 ′ Banušić), Andressa (81 ′ Greggi), Serturini; Lázaro (86 ′ Bonfantini)
The game
AC Milan lined up in their usual 3-5-2 while donning white jerseys as the home side. They got off to a good start first after Dowie found the first shot on target in less than a minute. After Jane's midfield interception and a through pass from Giacinti, Natasha had a great chance to score but a bad touch let her down.
About six minutes later, Vero won a free kick to the edge of the box. Hasegawa was then tasked with taking it, but his shot went way over the mark. Yui is normally a fairly sharp player. However, she looked rather rusty during the first half. Maybe it was the nerves of a final that got hold of him. Jane would have another chance eight minutes apart, but her attempt also failed to find the back of the net.
Roma themselves are said to have their attempt around 25 minutes after captain Elisa Bartoli won a free kick at the edge of the box. The kick was then taken by Andressa, whose ball was tied to Palamo Lázaro's header. Lazaro, however, would not find the bottom of the net. After what seemed like a long and cautious period, Refiloe Jane had another 29th-minute effort, which was later saved by Roma goalkeeper Camelia Ceasar. The game was close, with the two teams not taking much risks.
The first half would end with Roma's Elena Linari heading a ball over the goal. The halftime whistle sounded, then both teams retired to the locker room.
The second half was about the same. The Giallorosse roared out the door, Korenčiová having to block Soffia's long-range effort in the 51st minute. Three minutes later, Lindsey Thomas led a rather weak shot on goal. The game eventually shifted into third gear and turned into a real battle, with the Rossonere leaping forward on the counterattack. Unfortunately, they've been ruled offside a number of times throughout this game, and the referees have had quite a few of those erroneous calls. He thus killed the momentum of the Rossonere in the future.
Substitutions were made during this interval to give Milan new legs, Claudia Mauri entering in the 45th minute and Christy Grimshaw in the 77th. The players replaced Refiloe Jane and Natasha Dowie respectively. The fact that coach Ganz made so few substitutions might also have sealed the fate of the Rossonere. He is often reluctant to make substitutions and leads Milan players to get tired legs and fatigue.
Dowie's replacement was very necessary as she did not do well during this game. She had a golden opportunity to score around the 62nd minute, but chose to eat her lines and dribble the ball too much. And almost immediately after Grimshaw was substituted, he landed a shot on target in the 77th minute. He was then blocked by Grimshaw, quite inexplicably. Bergamaschi then had an effort on target in the 84th minute and that didn't bother Cesar too much. Vanessa Bernauer almost won the game with her fantastic long-range strike. Fortunately for Milan, his effort hit the crossbar. Bernauer was also fortunate to still be on the pitch, as she made two cynical fouls on Vero during the game, but didn't receive a single yellow card for it. After 94 minutes, the game was still tied and extra time was on the way.
Rossonere came close to claiming the winner in the 95th minute, as Grimshaw found Mauri with a ball deep in the middle. However, Roma's Allyson Swaby saved him. This was then followed by a corner kick from Linda Tucceri Cimini, whose Ceasar cross was knocked over over the bar. The first half of extra time ended with shots from Mauri and Vitale.
With four minutes to go, AC Milan had two chances to win, with Yui Hasegawa's first attempt. He was then saved by Ceasar, who also saved Vero's low, hard cross a few minutes later. Bernauer also had a late shot on goal which was saved by Korenčiová. Everything was square, however, after 120 minutes and so would be decided on the penalties.
Vero Boquete stepped in to take the first shot. She missed. Then Annamaria Serturini intervened for Roma. She scored. Christy Grimshaw then took Milan's second shot. Much to anyone's surprise, she missed it. Manuela Giugliano, the ex of Milan, then scored for Roma. Milan received a lifeline after Elena Linari missed hers. However, Linda Tucceri Cimini inexplicably missed her point.
Finally, another former Milan player, Camelia Ceasar, stepped in to take the kick. She then scored, winning Roma's very first silverware in Serie A Femminile history.
The Rossoneres, on the other hand, wondered what could have been. Captain Valentina Giacinti was visibly upset by this, and the former captain, Paolo Maldini, had to step in to comfort her.
Paolo Maldini in Campo a Consolare Le Ragazze del #MilanFemminile, in particular modo il capitano Valentina Giacinti#CoppaItaliaFemminile pic.twitter.com/QSLolzAaKx

– Lucia Pirola (@epiphoned_) May 30, 2021
Vale can take comfort in knowing that she played a good game. The loss always hurts and will make every Milan fan melancholy. However, fans of the Rossoneri can find solace in the fact that this is just the beginning and they will have the opportunity to win their first trophy in the near future.
Statistics
In a trend reversal, Milan had less possession and more shots on target. Milan only had the ball 41 percent of the time and managed to pass Roma by a 16-to-10 ratio.
Unfortunately, Milan couldn't convert any of their chances. They will have to work to be more clinical in front of the lens in the future.
Conclusion
It was a great loss to suffer. Milan were so close to winning their very first trophy, and yet it eluded them. A combination of mismanagement and poor performance on the pitch from a few players is what sealed the fate of the Rossonere. And the fact that they were in control for most of the game and had multiple chances to win, it hurts even more.
One could also complain about bad refereeing, as the women on the line were often wrong on their offside calls. Vanessa Bernauer should also have been carded for her fouls on Vero, and Claudia Mauri was fortunate enough to be on the pitch after obstructing a Roma shot on goal. Other than that, there is no excuse for losing Milan. The Rossonere had a lot of chances to win this game but they didn't grab it.
The only thing Milan can do now is learn from this game, lick his injuries and do better in the future. The Rossonere themselves should be commended for their performance this season, despite all the obstacles in their path.
This is just the start for Milan and while they have every right to feel overwhelmed by the loss, they should also know that clearer times and better days await them.
---
READ MORE: Milan will be without Bennacer and Kessie for four weeks – midfielder signing required