Masquespacio Crafts Splashy Burger Restaurant in Turin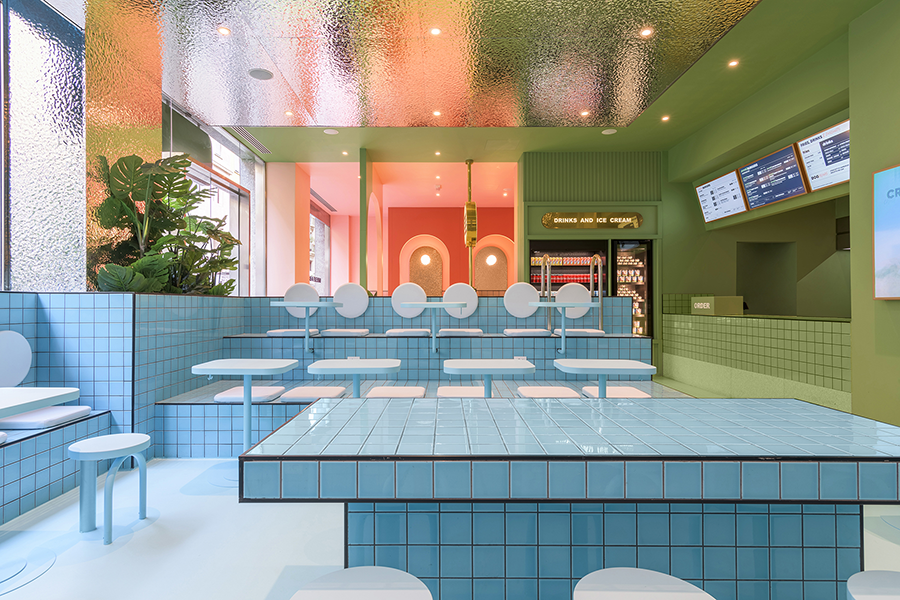 Following a collaboration earlier this year in Milan, Valencia-based firm Masquespacio once again partnered with restaurant chain Bun to design their latest outpost in Turin, Italy. The new restaurant echoes its predecessors, while being distinguished by a trio of colors and a distinctive facade that features three large windows, which inject natural light and connect the interior of the space to the sidewalk. "The idea of ​​playing with a color for each window creates a visual effect of the exterior that makes the viewer of the exterior move from one visual world to another, traveling through different experiences in the same space" , explains Ana Hernández, Creative Director of Masquespacio. .
Bun's signature green hue adorns the heart of the interior, punctuating the command bar upon arrival. Separate pink and blue dining areas flank the command bar and further contrast a range of seating configurations in the pink section, and produce a visual effect reminiscent of a swimming pool in the blue zone. The brand's design signatures such as arched patterns and a materiality including ceramic and terrazzo infuse familiarity into the singular space.
More than HIGH DEFINITION:
The 36 most anticipated hotel openings of 2021
Masquespacio Designs Multisensory Restaurant in Spain
Hotelier Adrian Zecha discusses his latest venture