Volunteers flock to help the Venice colony | Culture & Leisure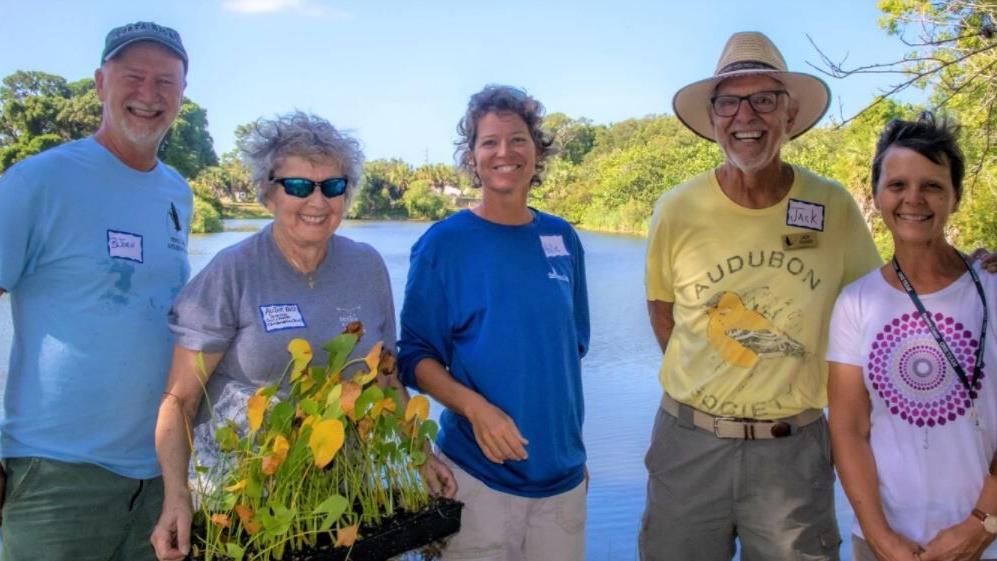 SOUTH OF VENICE – A total of 40 volunteers dressed in sun hats, blue Audubon Habitat for Birds CREW t-shirts, boots and work gloves came to the Venice Rookery on May 22 to plant native species of Florida along the pond.
They worked for four hours, digging, planting, weeding and watering, while keeping an eye on the resident alligator, with the goal of improving Rookery's shoreline.
The event, sponsored by the Venice Area Audubon Society in coordination with the Sarasota County Neighborhood Environmental Stewardship Team, was funded by grants from Audubon Florida, Florida Power and Light and Solutions to Avoid Red Tide.
The funds were used to purchase 1,300 plants native to the wetlands, including the giant bull rush, spike rush, pike, arrowhead, golden canna lily, blue flag iris, lily alligator, swamp hibiscus, common tick seed, black mulberry and bald chypre.
These wetland species will improve the stability of the pond bank and reduce stormwater pollution, thereby improving water quality and improving pollinator and wildlife habitat, ultimately encouraging more birds to use the colony.
"The Venice Audubon Rookery attracts over 20,000 visitors a year and is one of the area's treasures," said Bob Clark, VAAS director of conservation. "This planting project is expected to add even more to the beauty and interest of the park and will serve as a model for its environmental benefits, reducing erosion of the pond banks, helping to improve water quality. and providing habitat for wildlife.
Jack Foard, Chairman of the Board of Directors of VAAS, was delighted with this day.
"The most exciting thing about the event was the smiles on the faces of the volunteers working in the sand, sun and mud, laughing and having fun knowing that their good work was going to make a difference to our birds," of course, but also for the quality of the water in our region, which is good for all living things.